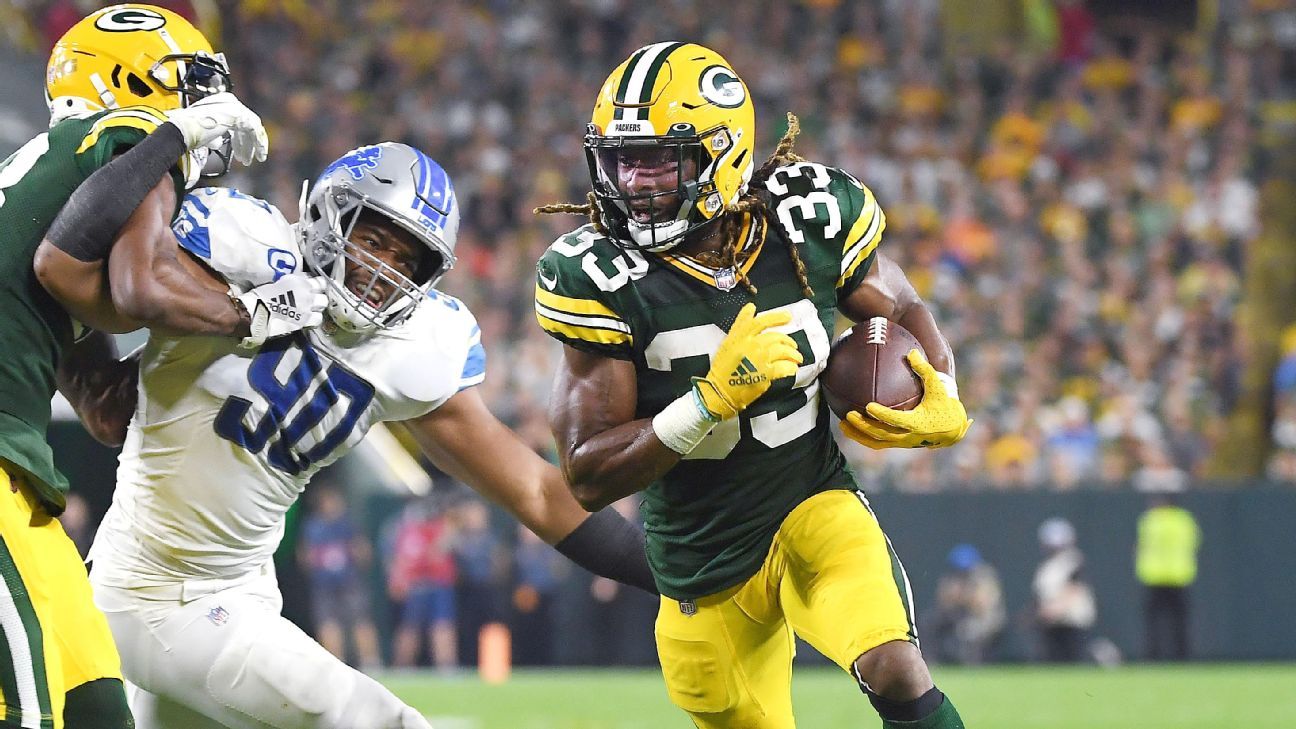 GREEN BAY, Wis. — It's a good thing the Green Bay Packers bucked tradition and gave Aaron Jones the kind of money many thought they'd be hesitant to deliver to a running back in free agency last offseason.
He's the best thing the Packers have going for them right now.
And he's the reason the Packers aren't 0-2 for the first time since 2006 — two years before Aaron Rodgers became their starting quarterback.
On a night that for a while looked a lot like the Packers' season-opening loss to the New Orleans Saints, what with all the wide-open Detroit Lions receivers and absence of a pass rush, Jones found the end zone four times — three as a pass catcher and once as a rusher — to comeback from a halftime deficit to pull away for 35-17 victory at Lambeau Field.
The fifth-year running back turned in another one of his dynamic showings, making his lack of involvement in Week 1 all the more problematic. It wasn't quite the 239-yard day Jones against the Lions in Week 2 here last season, but his 115 total yards from scrimmage (67 rushing and 48 passing on 23 touches) was exactly what the Packers needed after failing to Jones involved against the Saints.
It came right down the free-agency wire in March before the Packers brought Jones back on a four-year, $48 million deal that included a $13 million signing bonus — the largest contract for a running back in Packers history.
They did it because of his importance to coach Matt LaFleur's offense, although you wouldn't have known that by the opener with Jones carrying five times for nine yards and catching two passes for 13 yards against the Saints.
Under LaFleur, Jones had two straight 1,000-yard rushing seasons. He rushed for 1,084 yards and led the NFL with 19 touchdowns in 2019. Including the playoffs that season, he scored 23 times, the most for a season in team history. He backed that up with 1,104 rushing yards despite missing two games with a calf injury this past season and made his first Pro Bowl.
Monday was Jones' second career four-touchdown game, but he became the first Packers' running back with three touchdown catches since 1942 (Andy Uram against the Chicago Cardinals). No NFL running back had caught three touchdown passes in a game since Danny Woodhead in 2015. The most receiving touchdowns Aaron Jones ever had in a single season was 3 (in 2019).
To be sure, Rodgers finally got going, too.
Just like he had done immediately following the previous two losses by 25-plus points, Rodgers threw four touchdown passes, including one he feathered to tight end Robert Tonyan on a 22-yard post route to give the Packers a 21-17 lead after the opening possession of the second half.
Rodgers' pinpoint accuracy returned, too. He completed 81.5 percent of his passes (22-of-27) for 255 yards, including a 50-yard deep ball to Davante Adams that set up the Tonyan touchdown. This was the second time in Rodger's career that he has thrown four touchdowns to running backs and tight ends combined. The other came last season against Atlanta in Week 4. In that game, it was three to Tonyan and one to Jones. Rodgers finished 10-of-10 with 108 yards and the four TDs when targeting running backs and tight ends.
Even the defense, which looked discombobulated over the first six quarters of the season seemed to fix its coverage errors and find a pass rush. Their first sack of the season came with 8:50 left in the fourth quarter, although it was a gimme that Rashan Gary walked into when Jared Goff mishandled the ball to help pitch a second-half shutout.
At some point, probably next Sunday night at the San Francisco 49ers, the Packers are going to have play a more complete game. But on Monday night, this was enough.