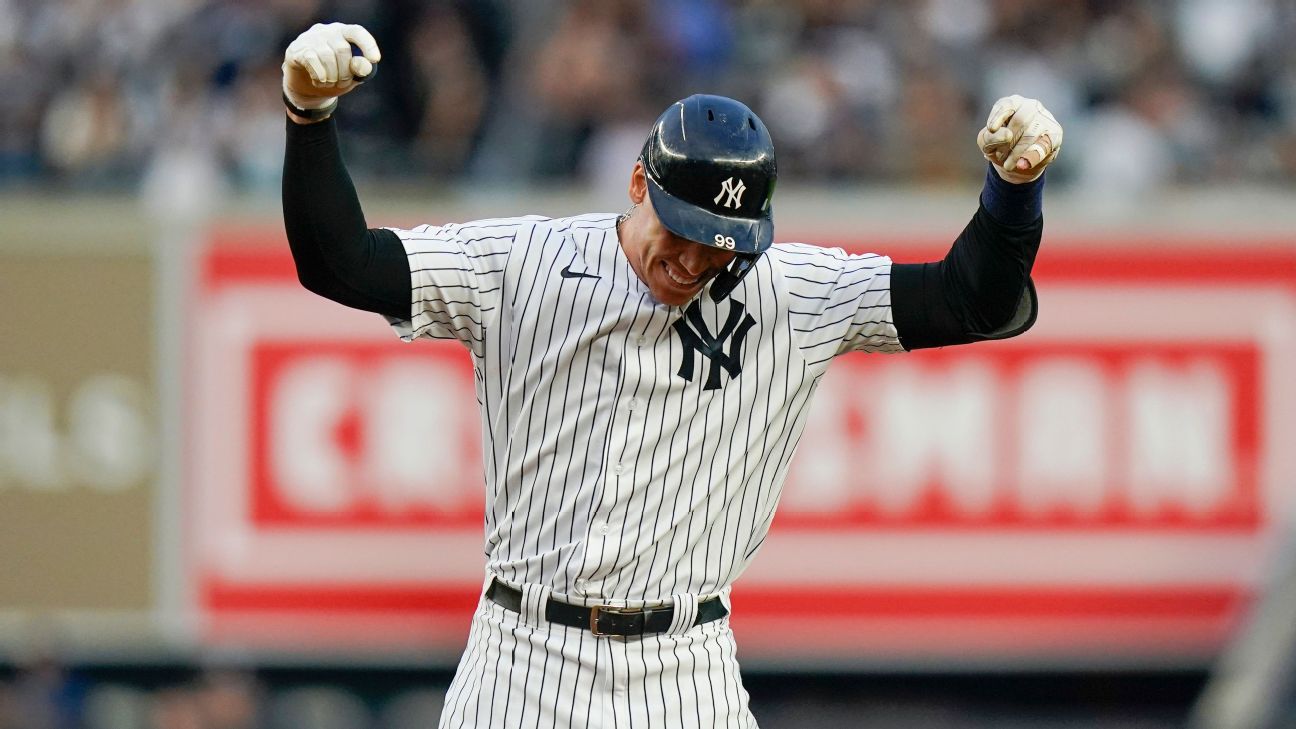 NEW YORK — Aaron Judge drove home the winning run with a one-out single in the ninth inning and the New York Yankees clinched a playoff berth in their final at-bat of the regular season by beating the Tampa Bay Rays 1-0 Sunday.
Yankees shortstop Gio Urshela made a Jeter-esque catch, charging recklessly into the visiting dugout, and New York finished the year 92-70, punching a fifth consecutive postseason ticket after nearly falling into a labyrnth of tiebreaker scenarios.
The Yankees had their bags packed, knowing a loss to the 100-win Rays could send them into one of several potential Game 163s on the road Monday. Instead, they'll wait until Tuesday to play again in the AL wild-card game against either Boston, Toronto or Seattle, pending the rest of Sunday's results. New York will host the game if the Red Sox lose to Washington.
Rougned Odor led off the ninth with a single against Josh Fleming (10-8), just New York's second hit. Pinch-runner Tyler Wade advanced to second on Gleyber Torres' flyout to the warning track in center, and Anthony Rizzo moved Wade to third with a one-out single.
Andrew Kittredge came on to face Judge, who ripped a 104.4 mph line drive off the right-hander's glove. The ball skipped toward drawn-in second baseman Brandon Lowe, whose off-balance throw home wasn't nearly in time to catch a sliding Wade.
Teammates swarmed a smiling Judge midway between first and second, and fans chanted "MVP! MVP!" at the face of the franchise during an on-field interview. The clutch single was Judge's eighth go-ahead hit in the 8th inning or later this season, which is the most by a Yankees player in a season since 1961, according to ESPN's Stats and Information research.
"I wouldn't say we exhaled," Judge said. "We still have a lot of work to do."
New York had just one hit through eight innings, although Gary Sanchez hit two rockets in the eighth. The first sailed wide of the left-field foul pole, and the other was caught with a diving effort by left fielder Brett Phillips.
This was the fifth time the Yankees entered the final day of the regular season still in contention for a postseason spot and first since 1995.
Tampa Bay rookie Randy Arozarena led off the eighth with a single and stole second, giving him 20 homers and 20 stolen bases. Only Tommy Pham and B.J. Upton had previously reached those marks in the same season for the Rays.
Information from The Associated Press was used in this story.