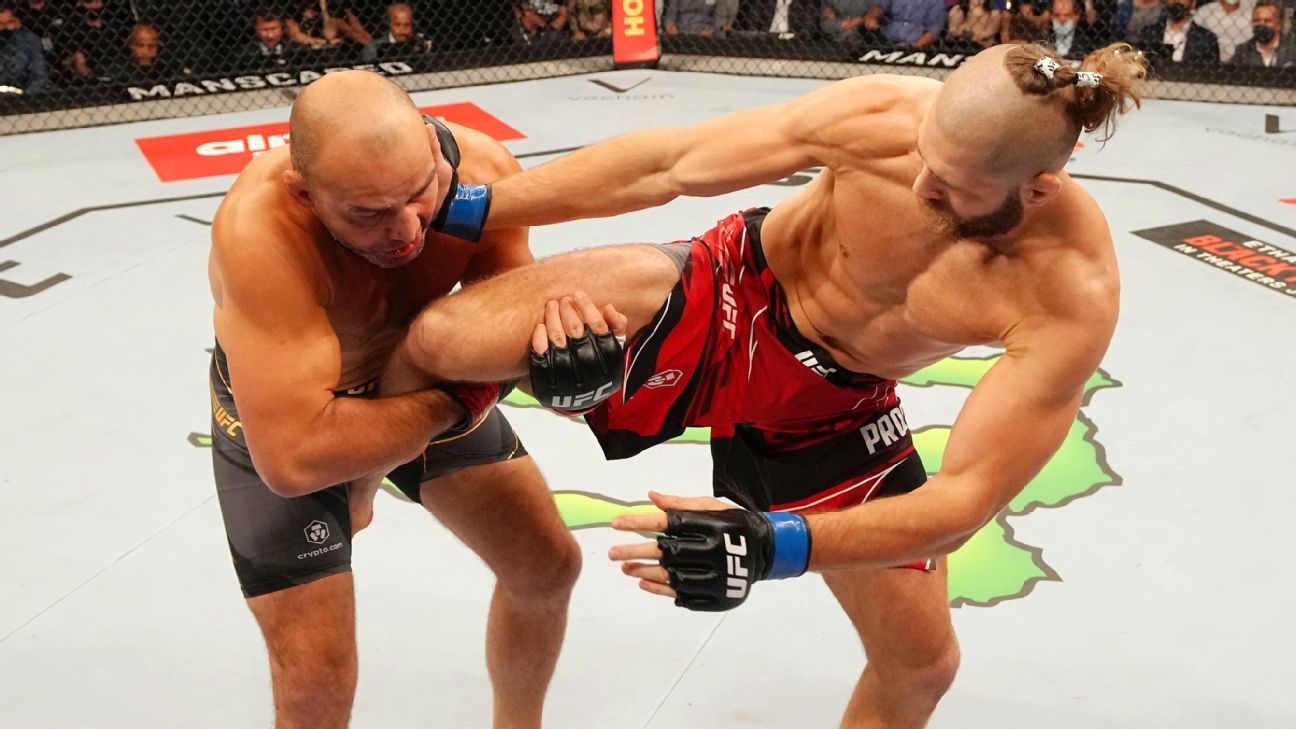 With under a minute left in the fifth round of the main event at UFC 275, Glover Teixeira looked like he was about to put it on cruise control into a decision win. Then Jiri Prochazka pulled a submission out of nowhere and got the champion to tap to become the new light heavyweight king. It was a spectacular fight on a night full of them, capped off by a shocking moment and the crowning of Prochazka, who extends his unbeaten streak to 14.
The other champion in the night heard "And still!" Valentina Shevchenko's dominance over the flyweight division took an interesting turn on Saturday as Taila Santos gave her all she could handle in a split decision victory. Shevchenko's typical ground efforts failed to produce great results, and Santos had plenty of control time against the champ for 25 minutes. Where do both go from here? Is a rematch in order?
But before the two title fights, all eyes were on the rematch between Zhang Weili and Joanna Jedrzejczyk, After a five-round battle that is now considered the best fight in women's MMA history, the two locked up a second time in Singapore and again put on a show. This time, no judges were needed as Zhang scored a tremendous spinning backfist knockout in the second round. After the bout, Jedrzejczyk placed her gloves on the mat and retired from the sport. Zhang now sets her sights back on the strawweight title and Carla Esparza.
Let's take a look at what's ahead for the top performers after UFC 275.
---
Jiri Prochazka, light heavyweight champion
Who should be next: Jan Blachowicz
Many pundits saw this moment coming for Prochazka from the moment the UFC signed him in 2020. This 29-year-old is uber-talented, dangerous and athletic. He also showed a lot of heart and championship grit in Saturday's victory. Glover Teixeira did not give that belt away easily.
For his first title defense, it feels obvious he should take on the former champ in Blachowicz. Like Teixeira, Blachowicz is doing some of his best work late in his career. He'll be 40 early next year. Blachowicz is coming off a TKO win over Alexander Rakic last month. That fight ended when Rakic suffered a leg injury, but the victory still goes on Blachowicz's record — and that record looks good, as he's won six of his last seven. He's the obvious choice as the No. 1 contender.
Wild card: Winner of Magomed Ankalaev vs. Anthony Smith on July 30
I don't think the winner of this fight will likely jump in front of Blachowicz, but it's possible.
Ankalaev has been on a tear with an eight-fight UFC win streak. Smith is enjoying a terrific resurgence as of late, recording three consecutive first-round finishes to erase a two-fight skid in 2020. Anything is possible if one of them does something incredible on July 30 and then makes the most of his time on the mic. But I think Blachowicz should be next and will be next.
---
Glover Teixeira, light heavyweight
Who should be next: Alexander Gustafsson
Teixeira said in the Octagon he would like to keep going, and he's certainly capable of doing so. He was ahead on the scorecards in that fifth round, meaning. If he doesn't get choked out with 28 seconds remaining, he's still the champ.
He doesn't have many more, though. I would imagine he might only have one more. I don't see a ton of options out there that make sense for what could, possibly (probably), be his last fight. Except Gustafsson.
I think Gustafsson is a home run. They are two of the most respected light heavyweights of all time. Gustafsson has a fight booked against Nikita Krylov on July 23. He's making a return to 205 pounds. Win or lose, I think fans would appreciate this matchup, if Teixeira does indeed have another one in him.
Wild card: Retirement
I think this is a great option for Teixeira. And again, it has nothing to do with his ability. He can still fight. I just don't see a great reason for him to do it again. Yes, he lost his belt, but it would make for a pretty good career finale, wouldn't it? It was an instant classic, and it was also classic Glover. All the heart and toughness he showed? It's a fitting way for him to walk, in my opinion. But if he wants to do it again, that is his right and his choice. He still has gas in the tank.
---
Valentina Shevchenko, flyweight champion
Valentina Shevchenko defends her title for the seventh consecutive time against a tough Taila Santos at UFC 275.
Who should be next: Winner of Alexa Grasso vs. Viviane Araujo on Aug. 13
So, that was a lot closer than most expected. An unheralded contender from Brazil by the name of Taila Santos nearly upended this entire division on Saturday. It was good to see Shevchenko tested at this weight and not surprising at all to see her rise to that challenge.
I'm sure some might suggest an immediate rematch, but I don't think that's necessary here. Would I like to see that fight again? I would, yeah. But it doesn't need to happen right away. And I also don't think, coming off this kind of fight, it's the right time to see Shevchenko move up or down a weight class.
Let her keep doing her thing. Call up the next contender in line. And the next contender will be the winner of this fight in August.
Wild card: Taila Santos
As I said, you could make an immediate rematch because this fight was so much closer than we're used to for Shevchenko. You can also argue Santos won (I scored the fight for Shevchenko, but one judge had it for Santos). And you can argue Santos was affected by an unfortunate clash of heads in the fourth round.
Those are the reasons to run it back, but I don't think any of them are strong enough to book it.
---
Taila Santos, flyweight
Who should be next: Katlyn Chookagian
A lot of people weren't familiar with Santos as she went into this title fight. She flew under the radar to this opportunity. That should change after the effort she gave on Saturday.
The fight that makes sense to me now is Chookagian. She's a machine with 11 UFC wins going back to 2016. You have to be elite to beat Chookagian at flyweight right now, and Santos just proved — even in a loss — that she is. Just take a look at the rankings and you'll see, this one makes sense.
Wild card: Valentina Shevchenko
Again, when you actually beat Shevchenko on one official scorecard, that's worth something — and immediately puts you in consideration to get another crack. It's a defensible position to say the UFC should run this back, but I don't think it'll happen.
---
Zhang Weili, strawweight
Zhang Weili, the announcers and the Singapore crowd can't contain their excitement after Weili's incredible knockout win.
Who should be next: Carla Esparza
There's no doubt. Zhang is the only option to face Esparza for the title — and that's no disrespect to another very good strawweight in Marina Rodriguez, but it's not even close.
Zhang is a former champion, who lost the belt to Rose Namajunas in 2020 but nearly took it back from her in a split decision loss in 2021. She just put a massive exclamation mark on this rivalry with Jedrzejczyk. She has never looked better and sported some outstanding wrestling on Saturday. Her decision-making and creativity — it's all there.
She might not have a belt around her waist, but we know she's championship caliber. Dana White already said going into Saturday, the winner of this fight would be next, and Zhang just made sure there would be no doubt or argument about it.
Wild card: Marina Rodriguez
If Esparza suffered an injury, it is about the only thing I can imagine — this is the fight that would make sense. Rodriguez is deserving of a title shot, frankly — she's just not as deserving as Zhang.