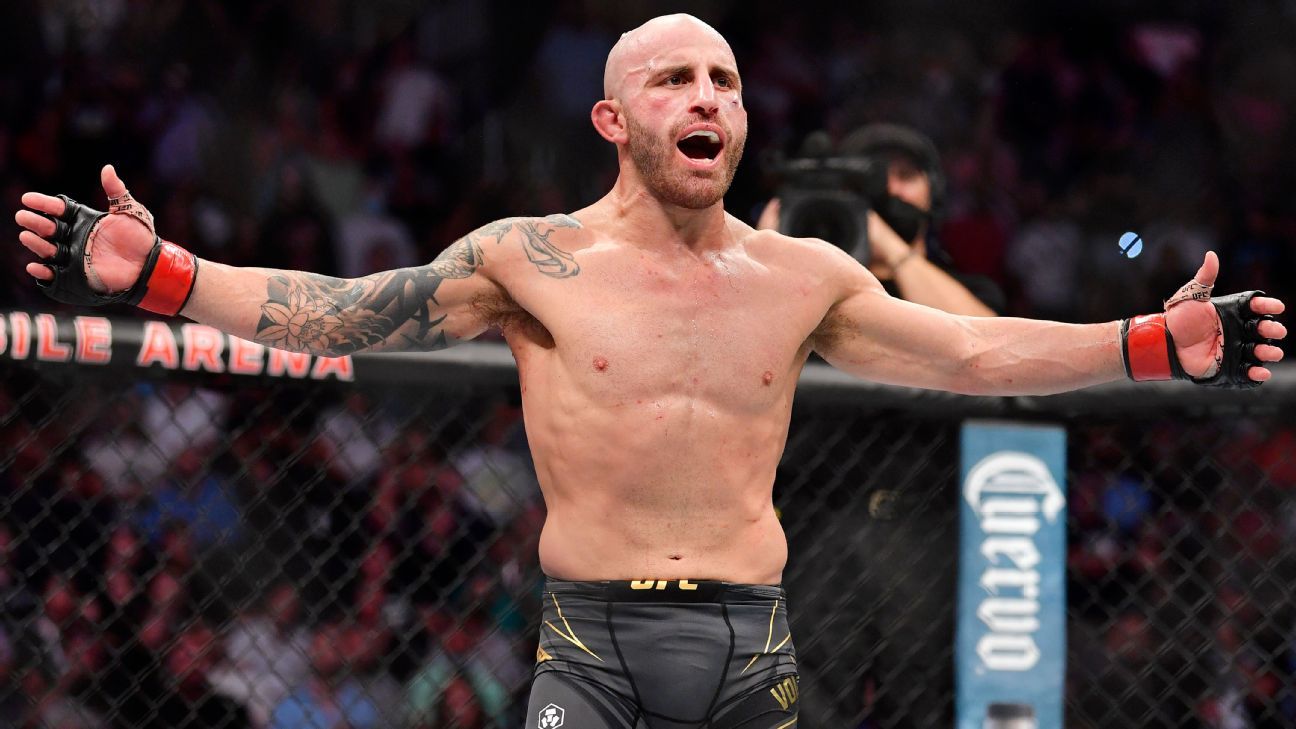 LAS VEGAS — Alexander Volkanovski's status as the best featherweight in the world has been solidified.
After escaping several close submissions attempts, Volkanovski poured on the damaging blows to beat Brian Ortega via unanimous decision (49-46, 50-45, 50-44) Saturday night in the main event of UFC 266 at T-Mobile Arena. Volkanovski retained his UFC featherweight title with the victory in one of the best championship MMA fights of 2021.
"All them doubters," Volkanovski said in his postfight interview. "I'm gonna keep proving you wrong time and time again."
The ringside physician had to check the cuts on a bloody Ortega's face prior to both the fourth and fifth rounds before letting the bout go on.
Volkanovski said this week that he wanted badly to finish the extremely durable Ortega. He didn't do that, but this win was an impressive one — one of his best performances in the UFC. Volkanovski waded riskily into Ortega's dangerous guard on the ground several times in the third and fourth rounds, landing huge ground-and-pound shots that busted up Ortega's face.
Despite the damage, Ortega's best round might have been the fifth when he had Volkanovski reeling at times with punching combinations. Ortega nearly finished him in the third round with a mounted guillotine and a d'arce choke. He also nearly had a choke in the fourth.
"I thought it was done," Ortega said. "That's what we trained for my entire camp. … That little bastard is f—ing tough as hell."
The bout was initially scheduled for UFC 260 in March, but was pushed back when Volkanovski tested positive for COVID-19. Volkanovski and Ortega then coached opposite one another over the summer on The Ultimate Fighter reality show, which created bad blood between the two men. Volkanovski called Ortega "unprofessional" this week and called out his 2014 positive drug test in a heated staredown Thursday.
Volkanovski is ESPN's No. 6-ranked pound-for-pound fighter in the world. Coming in, ESPN had Volkanovski ranked No. 1 and Ortega ranked No. 3 in the world at featherweight.
"Some of them were pretty tight," Volkanovaki said of the submission attempts. "For some reason I went to the ground with him. Obviously, he's good. … I thought I was in his head and he came back even stronger."
Volkanovski (23-1) has won all 10 of his UFC fights. The Aussie is coming off a split decision win over Max Holloway at UFC 251 in July 2020, his first title defense. That was a close one and many thought Holloway was the true winner.
Volkanovski, 32, hasn't lost since May 2013, his fourth pro fight. He beat Holloway to win the title at UFC 245 in December 2019.
Ortega (15-2, 1 NC) was coming off a unanimous decision win over "The Korean Zombie" Chan Sung Jung last October, a comeback victory after being out nearly two years due to injury. The California native only had one career loss coming in and that also was in a featherweight title fight, against Holloway at UFC 231 in December 2018. Ortega, 30, holds a 7-2 (1 NC) record in the UFC.